Weed Stop and Rim Doi In Pizza Cafe - Doi Inthanon Cannabis Store
When you visit Doi Inthanon, cannabis is something you can grab on the way. 
Weed Stop is located on the road that heads up to the national park. After making the right hand turn at Chom Thong to head up the mountain, continue on another 2km (1.2 miles) and you'll see the sign on the left. 
Weed Stop stocks a selection of the finest locally grown cannabis. The weed is all organically grown outdoors ensuring you'll have the fullest quality experience when smoking. Every strain is smooth and easy to smoke, either as a pre-roll or loose. Our top marijuana varieties have a rich, pleasant aroma and are full flavored for maximum satisfaction.
You can be prepared with a selection of both sativas and indicas. Your host at Weed Stop will inform you as to the best varieties based on your recreational pursuits at Doi Inthanon National Park. 
Doi Inthanon Cannabis Experience
Savor your hiking experience with a nice sativa. Weed Stop has strains that will help put a spring in your step and open your eyes wider to the natural beauty that's all around you. If chilling at the waterfall, or helping you get a deep sleep in your tent, ask your host at Weed Stop for one of their best indica strains.
Whatever you plan to do when visiting Doi Inthanon, cannabis will take you higher than ever. We recommend driving safely and only consuming our product once you arrive. For this reason, and because we abide by the law, it's not possible for you to light up at Weed Stop. But you can certainly take a break and enjoy our home made pizzas.
While you're there you can check out this page for some helpful info about things to do when you visit Doi Inthanon.
If you're looking for accommodation, come to our Suan Sook homestay!
The Best Homemade Pizza at Doi Inthanon
Rim Doi In Pizza is something to experience. There's a great selection of Thai fusion pizza toppings as well as more traditional flavors. So, plan to take a break, buy some superb home grown organic cannabis and order a pizza or two (and maybe some to take with you.)
There's plenty of off street parking out front and you can sit on the porch and relax with a drink and pizza before heading up the mountain.
Ask about our Thai fusion pizzas. We have developed these toppings to bring together the best of Thai flavors combined with great pizza bases. 
Try the Pad Gra Pao pizza. This has  thick, home made tomato sauce to cover the base. Then comes the gra pao – spicy (but not too spicy) pork with Thai basil, and topped with a generous helping of mozzarella cheese.
Another favorite is our Sai Uua Pizza. This has our homemade tomato sauce spread over the base. We have the best, locally made sai uua (northern Thai sausage) to add, before topping it with mozzarella. This is true fusion, swapping out pepperoni with northern Thai sai uua. Fantastic!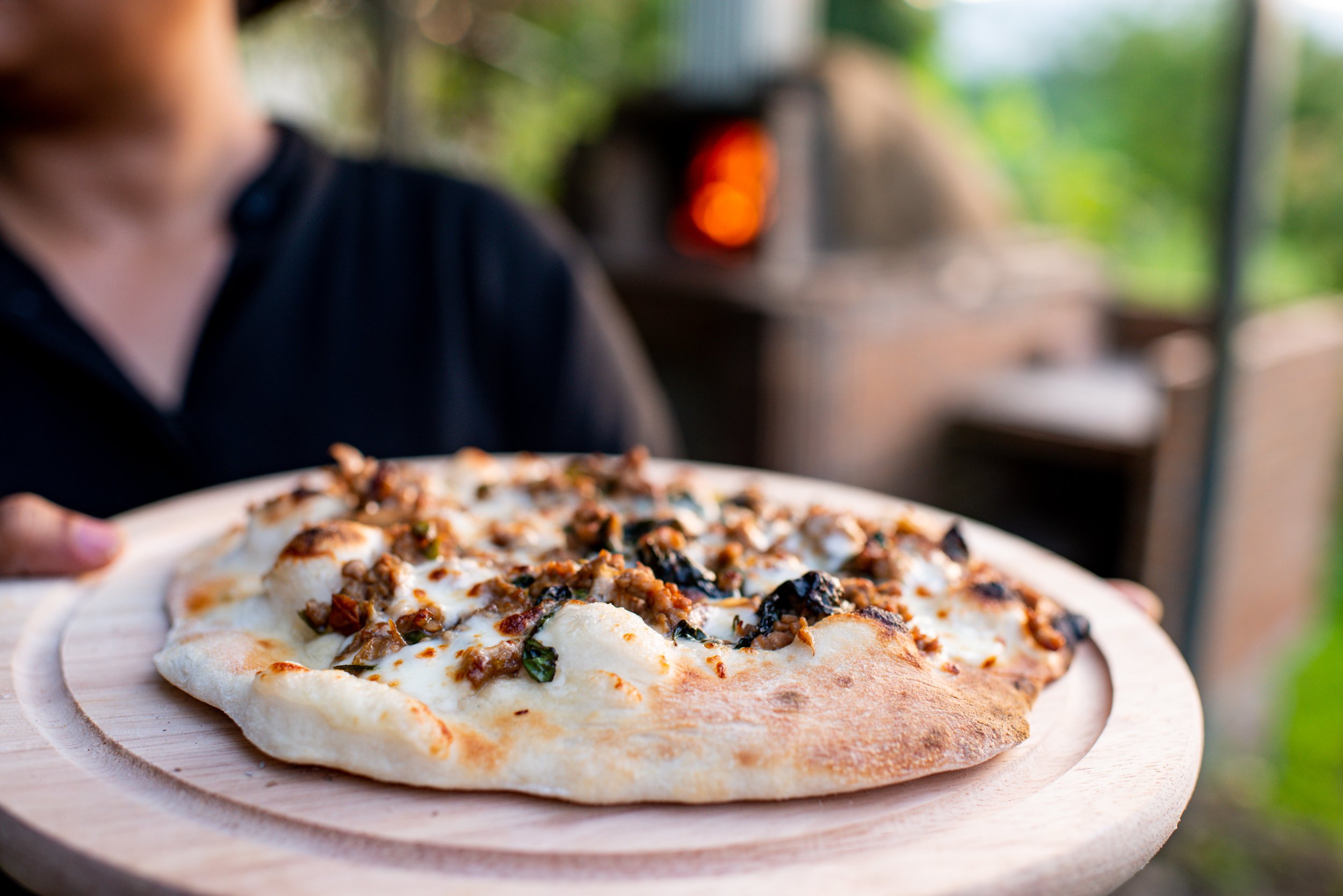 Ham, bacon, mushroom, pepperoni, and other more traditional pizza toppings are all available. If cheese is your thing, try the Super Cheese pizza!
Coffee and other hot and cold drinks are also available at Rim Doi In Pizza Cafe.
Weed Stop is a fully licensed seller of cannabis.
Scan this QR code for a map to Weed Stop and Rim Doi In Pizza Cafe for great food and Doi Inthanon cannabis.